What Is The Future For Elementor?
Before I begin, this is purely my opinion, and I'm not privy to information from some deep throat source. It's merely an opinion.
What Is Elementor?
Elementor, like it, loathe it, whatever you're leaning it's a sure thing to say it's grown exponentially year on year, well since 2016 actually.
Unless you've had your head in the sand, it's become one of the most popular page builder plugins for WordPress, ever.
With the freedom to create unique layouts, choose from a range of templates, add new functionality, etc.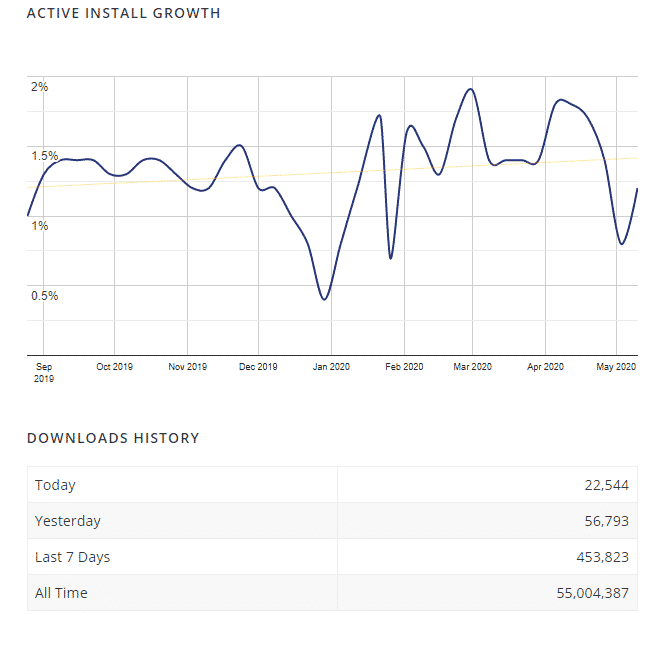 It's incredibly popular, and more recently it's hit over 5 million active installations (people using it on their WordPress powered website).
To give you an idea of how popular it is, in the last seven days, Elementor has hit 453,823 downloads, and as of today, over 55 million downloads.
That's a big number right?
My thoughts on Elementor
I wasn't a lover of it at first, a whole new way of doing things; however, I have grown over time to become quite a fan of it.
Great for building rapid websites for friends, family members, or clients. Hell, there's a shed load of businesses that have spawned thanks to Elementor.
Feature-rich (reminds me I should do a review at some point), and with the sheer number of tutorials around, learning how to use it has become even more accessible.
This article isn't a product bashing one, I've stated I'm a bit of a fan, so don't expect me to rip it apart!
What's next for Elementor?
With the recent(ish) announcement that Elementor has secured funding via Lightspeed Venture Partners, you can read more about that here.
It made me start to think what's next for Elementor?
In a relatively short time frame (4 years) to get to this level of success is phenomenal, I mean genuinely.
Don't get me wrong, congratulations to Elementor and the teams behind it.
If you're using something like HubSpot as a CRM, you'll have noticed it seep into the tutorials section a while ago, with guides on building a site, creating landing pages, and more.
Elementor is extending its reach, and then I started to think about it more logically. Where next?
Investing such a large amount in Elementor, there has to be a future goal, right? Or goals.
Here's my take on the future for Elementor
Firstly I see Elementor getting more into supplying a white label version or a bespoke version to work with other website builders, such as WIX, SquareSpace, and such.
Offering other website building platforms a unique version of Elementor (same feel, slightly different look) would give them some additional revenue for sure.
It's limited though. A one-off payment per year for a couple of million? Hmmm, doubt it.
E-Commerce
E-Commerce is a massive growth area at the moment, especially in light of the current situation. Tapping into the E-Commerce market, think Shopify, BigCommerce, etc.
This area could be a boost to them and opens the gambit for every other platform available.
A scaled-down version/unique one purely for E-Commerce platforms, all powered by different builds of Elementor.
Again, it's limited, one time fees, or license the software to E-Commerce providers. Not a great deal of return, then it hit me.
Elementor SAAS Route (Software As A Service)
If they aren't thinking about offering Elementor to other website building companies, they may go down this path.
Personally? I see this option as being the most likely.
They have the engineering/development team behind them, what's to stop Elementor going down the hosted Content Management System route?
Think about it for a second.
With a massive user base, all familiar with Elementor, loving it, working with it, as an investor (if it was me), alarm bells would be ringing right about now.
The smart money (if I had any) would be to put money on this option happening.
Elementor would continue to offer the WordPress plugin, both free and, of course, the pro version. It makes perfect sense.
I can see a division of Elementor working on a stand-alone hosted solution.
Powered by Elementor, using either a fork of WordPress or a purpose-built solution purely of their making.
I can see a purpose-built solution over a fork in my mind.
Potential revenue? Well, it could make a shed load for them, especially if they partner with a cloud web host, charge $$$ per month, and have different packages available.
WordPress is a limited market
Don't get me wrong, and I don't mean to slate WordPress, it is a limited market. How much further can Elementor go?
I mean what's next, they hit 10 million plugin installs, 20 million? They've pretty much cornered the market.
With a 15 million dollar investment, you can bet your ass to a barn dance, future-proofing and platforms will have been discussed.
You've only got to look at Envato sites, that incidentally is closing down as of June 2020. The uptake I suppose wasn't there, but did they have the user base of Elementor?
Having customers on Envato is one thing: they didn't have a flagship product to lead with.
Elementor does.
Shaping Elementor into a WYSIWYG (What You See Is What You Get) website builder to compete with the likes of WIX et all, is undoubtedly the way forward.
It opens the market up and doesn't restrict it to being specifically focused around WordPress.
How many people would switch from WordPress and use the platform (if they decide to go down this route) I can't answer that.
I can expect a solution like this would enjoy countless design agencies using it, solopreneurs, and those thinking of building a website using a drag and drop interface.
What I can tell you, if I pumped 15 million into a product, I'd expect it to grow more. The only way to do this, realistically, create a web builder platform.
There are a few problems with this model.
Take, for example, designers/agencies; there would need to be a way to import a website into Elementor's solution think one-click import.
An easy way for agencies/designers to import content from an existing installation of WordPress, if of course, agencies wanted to migrate to a hosted solution.
Migrating to a hosted solution
Herein lies another problem, if web agencies decide to utilize this (hypothetical) solution, then it would mean a loss of control to a degree.
No more WordPress. Additional services such as support would effectively become defunct, so a loss of earnings potential.
What about training?
Retraining a team to use a hosted solution such as Elementors (it's all hypothetical), as opposed to WordPress, could be a headache for many agencies, and require additional training at an extra cost.
What if a client decides to stop using you?
If a client decides to stop utilizing your services with a hosted Elementor solution, what then?
You won't have WordPress support services to fall back on. You'll effectively have nothing.
Advertising a hosted Elementor solution
If this was the case, and indeed Elementor decided to go down the hosted solution route, what about advertising?
How would they position themselves in an ever-burgeoning landscape? Ease of use, hassle-free, no need for a web design company .etc?
There will always be a space for designers/agencies to work with Elementor, whether it's through the plugin or a hosted solution if they decide to utilize this route to market.
It might mean that things will need to change, and you'll have to take stock of your client base.
Whatever the future for Elementor, there's no denying that it's enabled people to do more when building a website.
I don't see it changing dramatically over the next year, but it's on the horizon, hypothetically at the very least.
Which direction do you think Elementor will go in?
As ever, it's over to you. I'm keen to hear your thoughts on what direction you see Elementor going into. Leave a comment with your thoughts, would love to hear them.
Subscribe To My Newsletter