The Bing WordPress Plugin. An Experiment & Review
Look, I'll be honest with you. I've been focusing far too long on Google, and Bing often got overlooked; that's a shame. 
Bing doesn't get a lot of love when it comes to search engines; it's all Google all the time. With Google pushing more ads in the organic search results, users will inevitably get fed up and seek an alternative.
Why Bother With Bing? Here's Some Search Engine Market Statistics
2.78% May seem low; however, considering the amount of daily search engine users, this will add up to a boatload of searches.
What I'm saying is, you can't discount Bing as part of your blogging journey. Putting all of your SEO efforts into Google is all well and good, don't leave Bing out of the mix.
Submitting URLs to Bing used to be a ball ache, sure you can add your XML sitemap and let Bing do its thing. Manual submission of URLs, a pain in the rear.
That's all changed, with the Bing WordPress plugin.
The Bing Experiment Part One
Why part one? I'll tell you later.
I thought I'd download the Bing WordPress plugin, and take it through its paces. The experiment in question is, "how long will it take Bing to index this article?".
To answer the question, I'll need to install and set up the Bing plugin. So here goes.
How to Set up the Bing URL Submission WordPress Plugin
First things first, you'll need a Bing Webmaster Tools account, I'm not going to tell you how to do that, it's simple enough to do. Bing has all you need to get started here.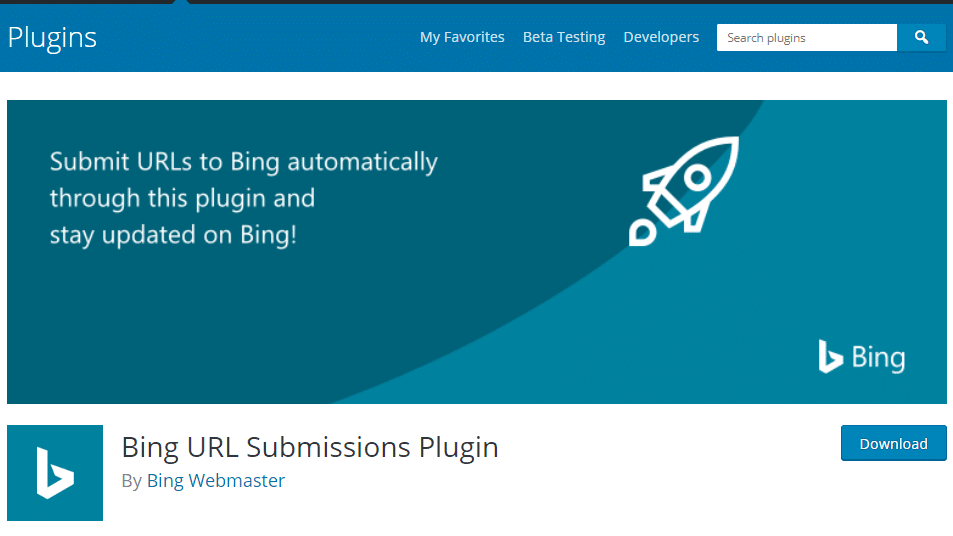 I've downloaded it from WordPress and have it on my desktop ready to go. I'm assuming you know how to install a WordPress plugin? Good.
Install done. See below: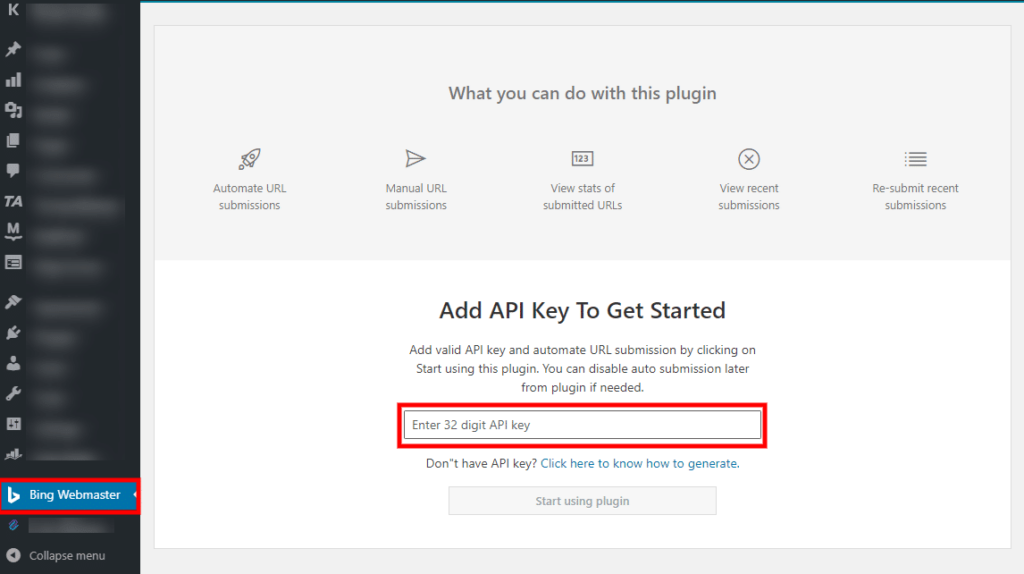 Accessing The Bing API Key
Once you've set up your Bing Webmaster Tools account, clicking on the link next to the text "Don't have an API Key?" under the input field will guide you through how to create one.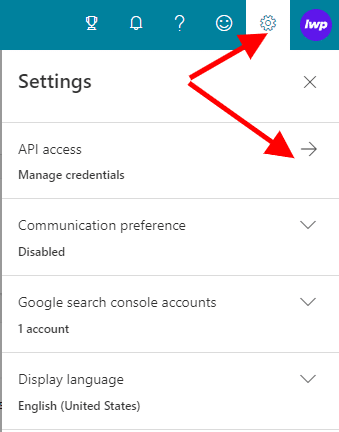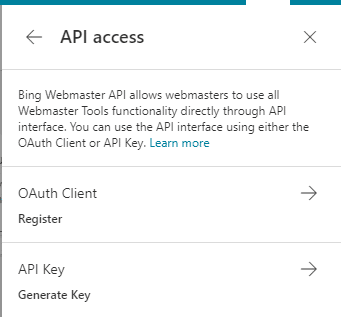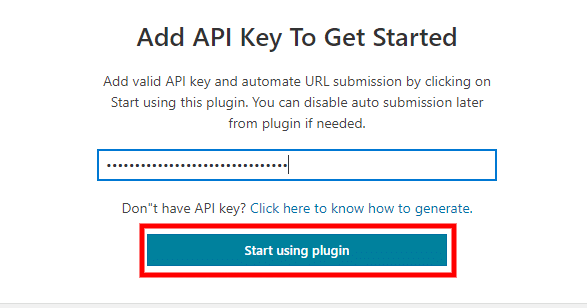 The Bing Plugin Settings Page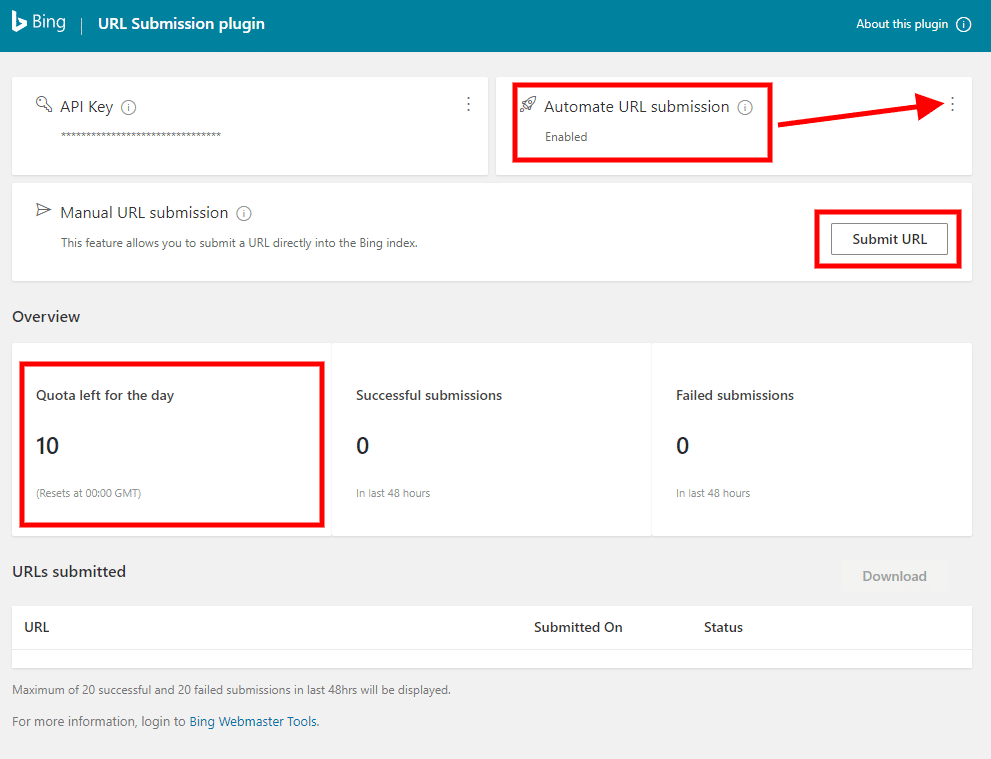 Once activated, the above settings page will load. There are a few options here:
API Key: If you change your key, clicking on the three-dot icon gives you the option to update your key.
Automate URL Submission: Using the icon, you can enable/disable.
Manual URL submission: If you opt out of automating the URL process, click to add a URL here.
Overview: Here, you can see the quota left for the day, successful submissions, and failed submissions.
URLs submitted: Breakdown of how many URLs have been submitted (either successfully or failed) in the last 48 hours.
A Quick Preliminary Test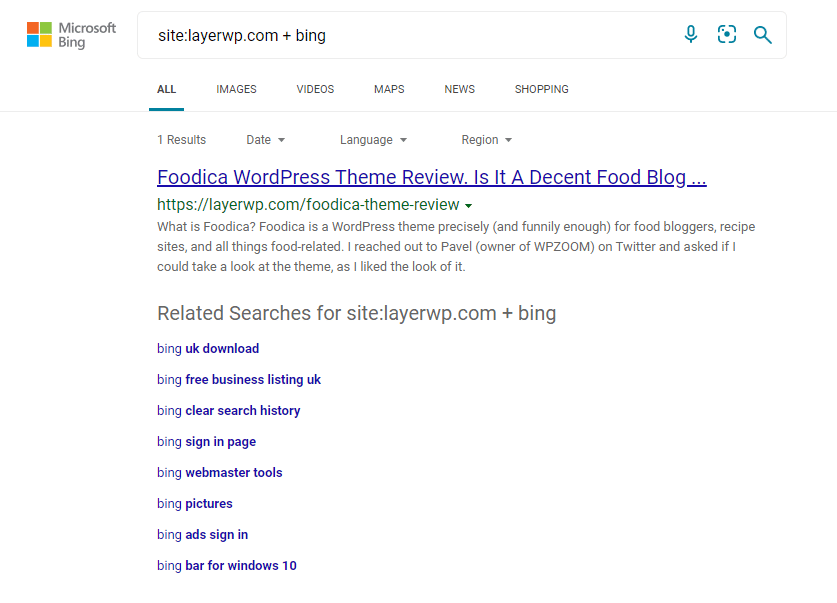 In the above example, I've searched my blog using the following:
site:layerwp.com + bing
Using this search parameter, it will only search for content from my site where the keyword is Bing. As you can see, I don't mention Bing much on my website. Nothing against them, you understand!
Using the SEO Plugin I have on LayerWP, I've added a meta description and title for this particular post. Why?
Bing has stated the following:
Once installed and configured with an API key obtained from Bing Webmaster portal, the plugin detects both page updates and new pages created in WordPress and automatically submits the URLs behind the scenes to our Bing Webmaster Tools API ensuring that the site pages are always fresh in the Bing index.

From the Bing blog.
I want to test this, so I'm going to add a meta description and title, then change it after I update the post, to see if the meta/title updates as well as the post content!
Does The Bing WordPress Plugin Index Content Immediately?
It's supposed to, but how quickly does it index fresh content or, in my case, this post? To answer the question, I need to submit this post to Bing and see how quickly it gets indexed. Wish me luck!
In short, the answer is no.
I submitted the article at 1:52 pm (as above image shows) I even sent it again. It's now 3:34 pm and still nothing.
Some of you might think me harsh, however, Bing made the following claim in their blog post:
"Get your WordPress content indexed immediately using Bing Webmaster Tools plugin"
Experiment Number 2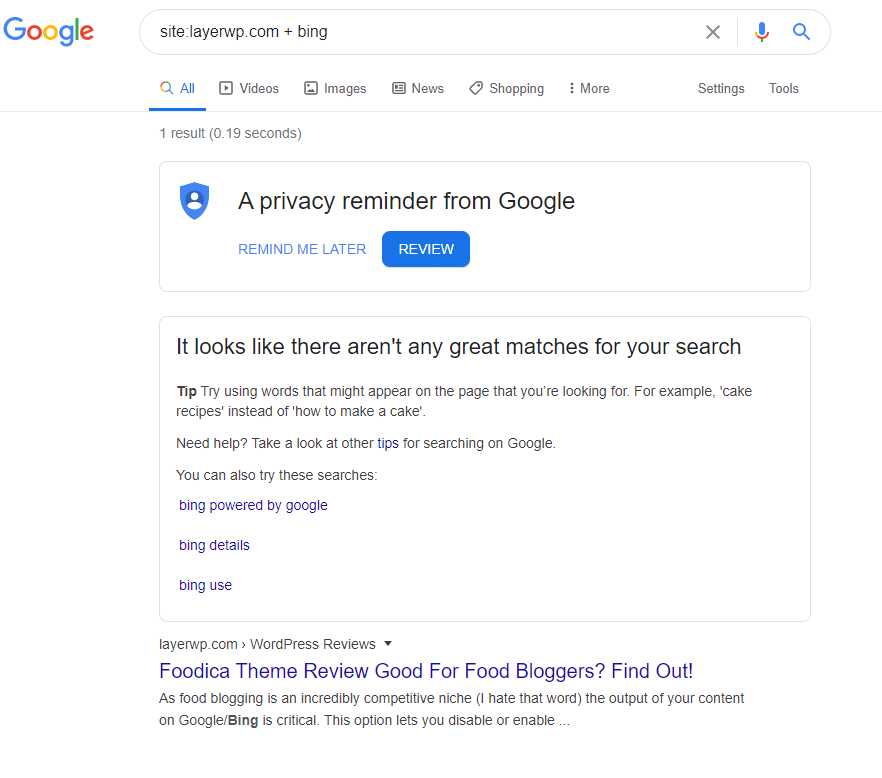 As another experiment, I decided to submit the post via a manual submission to Google. I sent the post at 1:58 pm.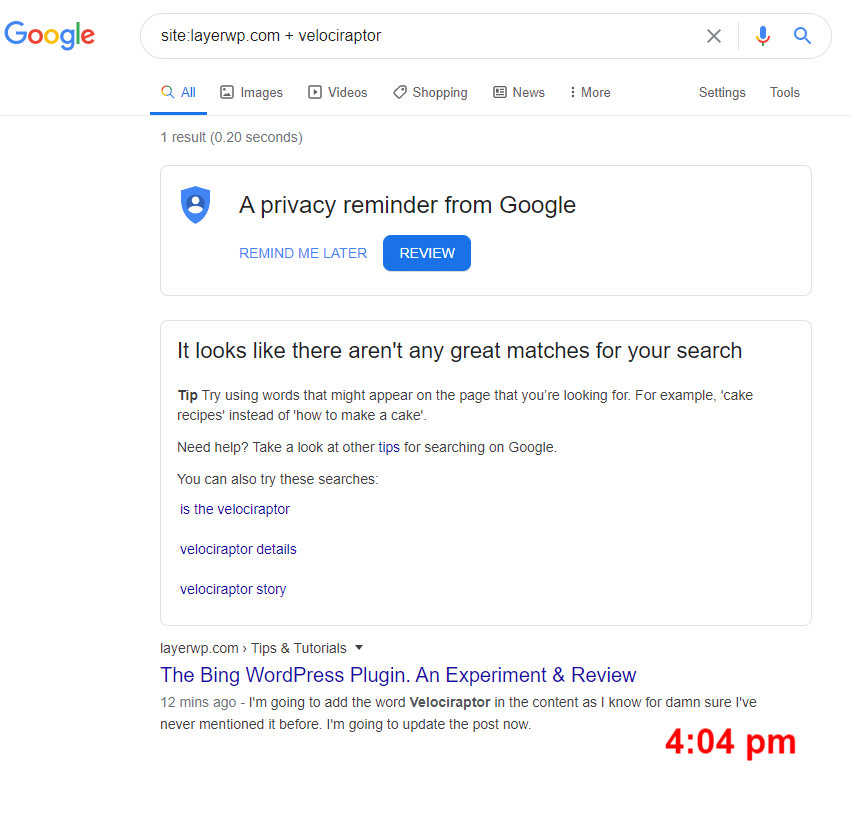 By 2:01 pm, the post got indexed. As of 3:43 pm, still nothing in Bing. So the claim that Bing indexes your content immediately is 100% wrong. All times are UK times by the way.)
Giving The Bing Plugin One More Chance
This section here, the one I'm writing as I speak, is new. It was not in the original post submitted to Bing or, indeed, Google.
I want to see if Bing will index upon updating the post, see if there was an error, and adding content might push the article to get indexed.
I'm going to add the word Velociraptor in the content as I know for damn sure I've never mentioned it before.
I'm going to update the post now. See if Bing does anything, and I'm going to manually submit to Google again (let Google know of an update to the post).
This time I'll be using:

site:layerwp.com + velociraptor
The time is 3:50 pm.
Second Attempt At Bing Using Updated Post
Using the search parameter, you can see that despite Bings claims, it's not instantly indexed. This was simply a post update with some additional content.
Applying the same method and manually submitting this updated post to Google: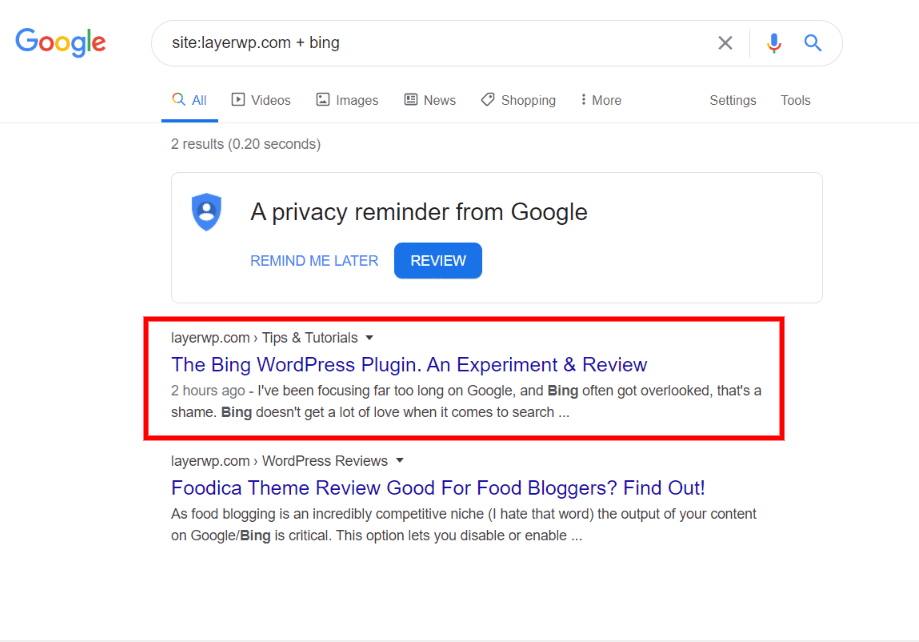 I know some of you will think of me as being overly critical; I'm not too fond of bold claims when they aren't real. Weirdly enough, checking the Bing settings page in my admin, I see this: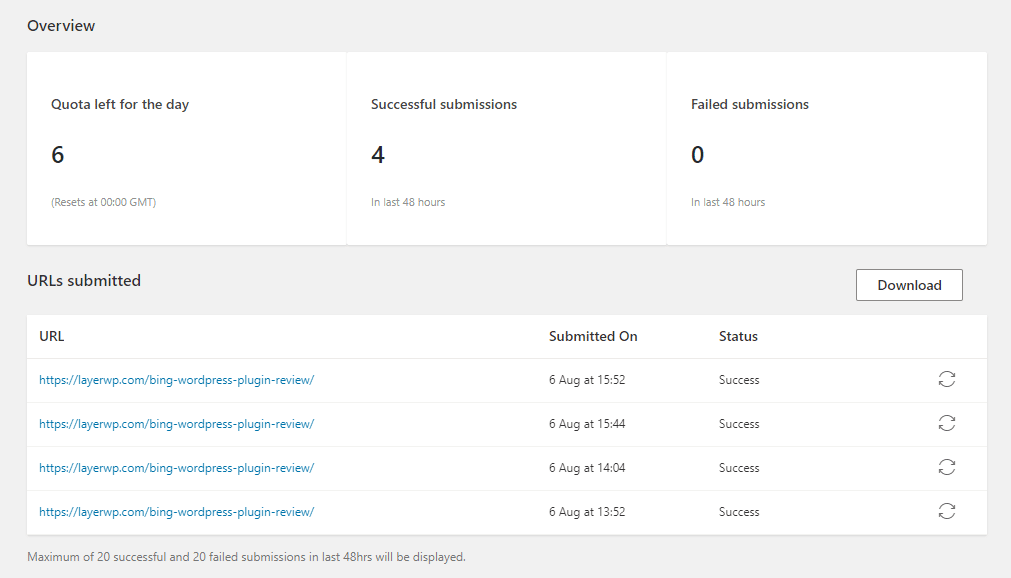 Well, according to the Bing WordPress plugin, everything is tip-top. Except it's not. Not for immediate indexing, at least.
With four successful submissions and only six left in my quota, plus no sign of the post in Bings search, I'd say it's a resounding failure!
Bing Plugin Review Verdict
It doesn't do what it claims it does. If this post gets indexed in an hour or within 24 hours, cool, honestly, that's great. Please don't claim that WordPress sites get indexed immediately using the Bing plugin because, in truth, they don't.
Now some of you will say it's probably my setup, and I'm doing something wrong; it's my fault. To that, I'd say I've tried everything I can.
If it was my fault, would Google have picked up the changes to the post?
As it stands, I'll leave the plugin installed, if this post gets indexed, later on, that's saved me the hassle of manually logging into Bing Webmaster and submitting the URL. So from that perspective, this plugin will save you time, providing, of course, it ever gets indexed.
I'll update this post, once Bing HAS indexed it.
UPDATE: The post has now found its way onto Bing. I checked this morning, the 8th of August and it's now live. It took two days to get indexed.
Bing Plugin review score
| Criteria | Score |
| --- | --- |
| Functionality | 2 |
| Overall Score | 2 |
Subscribe To My Newsletter