Setting Product Commission Rates For Your Affiliate Program (using SliceWP).
It's all well and good having an affiliate program, and SliceWP does an admirable job of creating one for WooCommerce. The problem some store owners may have is the following:
They might want to set up commission rates on a per-product basis or even set up commissions for categories of products in WooCommerce.
The base version of SliceWP offers a flat rate (either percentage or fixed cost) sitewide. In contrast, this may be enough for many. Some would no doubt like more.
The Product Commission Rates add-on is available to purchase from one of the three tiers of pricing SliceWP offers. It's available at the lowest cost license, the Personal one. See below for what I mean: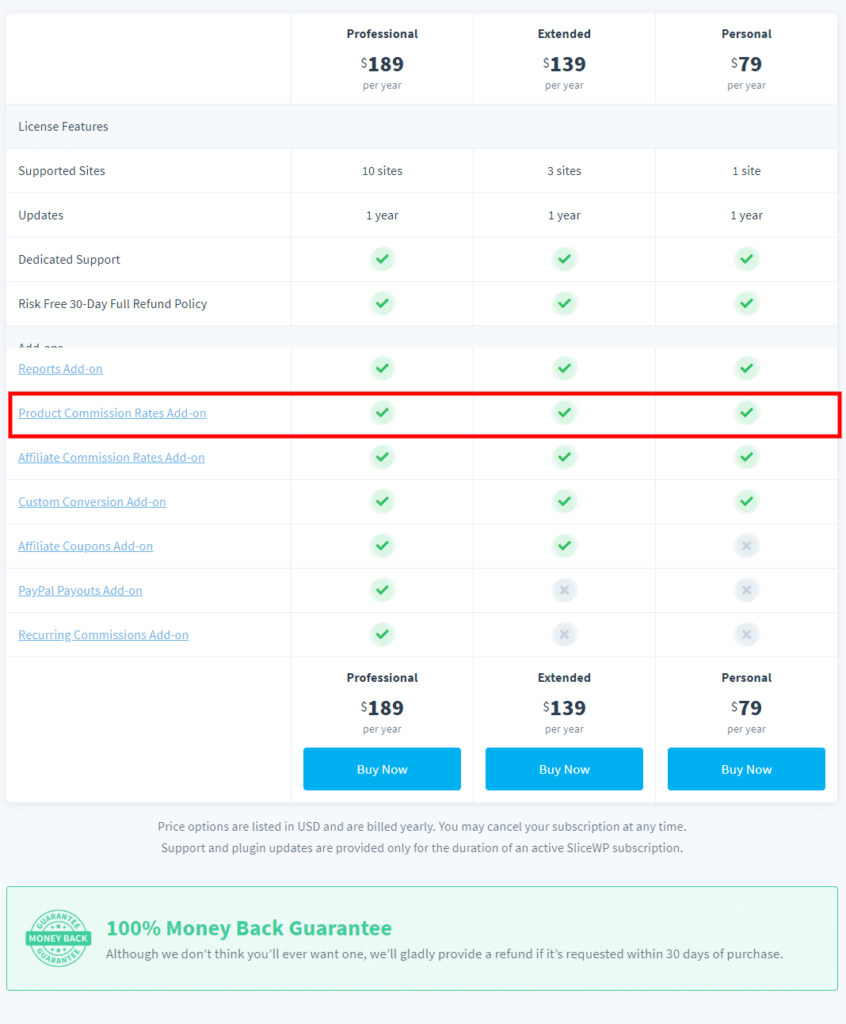 Don't forget the 100% money-back guarantee!
---
Product Commission Rates At Category Level In WooCommerce
The argument for wanting more flexibility with your commission rate could be explained like this:
You have a category called Deals or even Discounts. It's here you have low cost, heavily discounted items for sale on your WooCommerce store.
Now, the free version of SliceWP lets you remove products on an individual basis from affiliates, which is a great feature. No doubt about it.
What if you'd like to set encourage affiliates to push your discounted items, the fast movers, and still offer a commission for them?
It was not apparent to me where this particular setting resided. I did a little digging and found the following in the WooCommerce product category: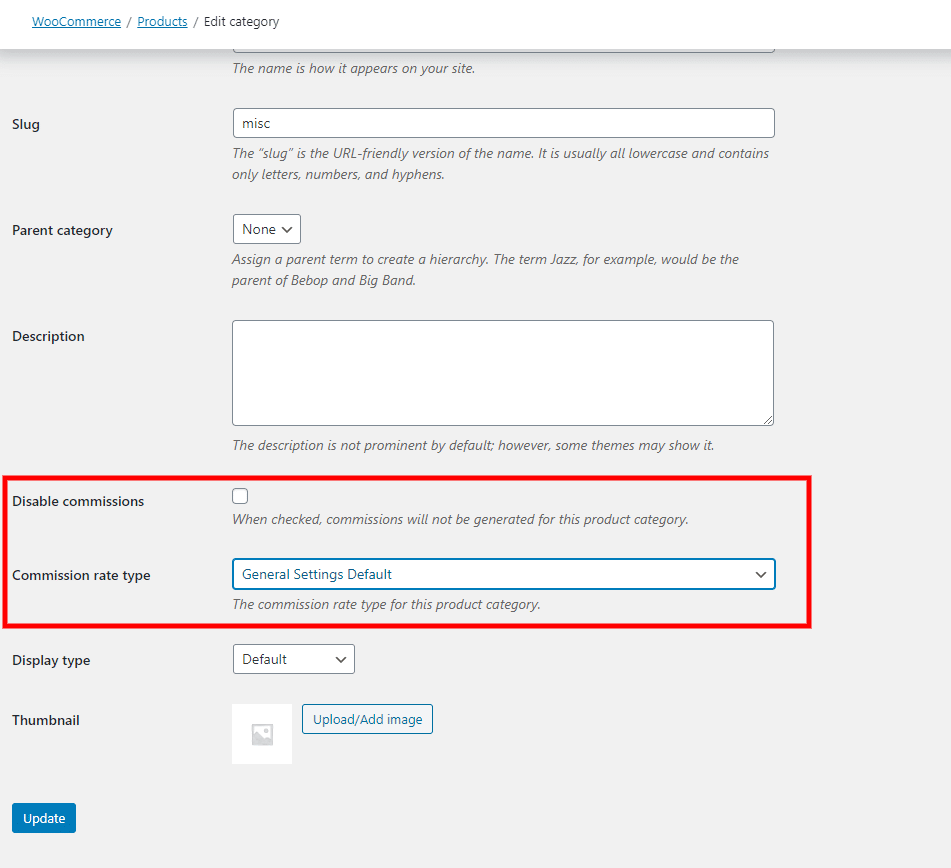 General settings: this will take the global value (if you have one set) in SliceWP settings.
Percentage settings: Clicking the menu and choosing Percentage opens up another field, and it's here you can set a % for all products in this specific category.
Fixed amount: Another click, and one can select the fixed amount (in cash) for all products in this category.
Pretty sweet, right? No more tinkering around, worrying that you might lose money on products via affiliates.
Using this method is a quick and straightforward way to apply to all products within a set category.
You need more granularity, don't you? Well, some of you may well do, so what about the product level?
Product Commission Rates At The Product Level
For the sake of argument, let's say you have set your category commission level and applied it to all products that live within it.
However, you have one product you need to apply a different commission level for. It could be that the margin is super tight on this product and offering a high percentage or fixed amount, is going to leave you out of pocket.

Within a product in WooCommerce, there's a new addition to the product data section; if you've read my affiliate program guide, you'll know that you can disable commissions at the product level.
Thanks to this add-on, you can change the Sale Rate Type to either a fixed amount or a percentage discount.
I've tested this (just now) and can confirm that product level discounts override the category level.
Having the flexibility to do this at the product level is impressive, especially if you have different products with varying margins.
Don't want to offer any discount at all? Disable the product from your affiliate program!
Wrapping It Up
If you need more flexibility for your WooCommerce affiliate program and need category discounts or a per product discount, you'll need this add-on.
You know your margins better than anyone having the ability to mix it up and set different discount amounts is a win-win, for you and your affiliates.
Don't forget, while I've been bleating on with using SliceWP for your WooCommerce affiliate program it is compatible with the following plugins:
Easy Digital Downloads
Paid Member Subscriptions
Paid Memberships Pro
MemberPress
Find out more about SliceWP
Don't forget I have a dedicated section to all things SliceWP, a hub if you will, covering tutorials, advice, and more. If you'd liked to find out more about the SliceWP Hub, go for it!
Subscribe To My Newsletter