Interview With Adrian Spiac of Cozmoslabs
Recently I had the pleasure of writing a guest post for Adrian Spiac called How to Create A Multilingual WooCommerce Store Using TranslatePress, which incidentally is an excellent plugin for translating your website.
Halfway through testing and using TranslatePress for the article on WP Mayor, I thought to myself, I need to interview Adrian to find out more about his business. So I sent some questions over, and Adrian very kindly answered them.
Over to Adrian Spiac.
What Was Early Life Like For You?
I grew up in Arad, Romania. I was raised by my grandmother during my first years, before the fall of communism. My parents are both geologists, so my father took both me and my brother to pick up semi-precious stones since we could barely walk. I think that's when I developed a strong connection with nature.
My parents were always supportive, so I had a lot of freedom growing up. This allowed me to experiment a lot of things, get into trouble often, but also go all in into whatever I was passionate about. In kindergarten that was football.
Then in high school it was basketball, followed by an obsession for coding. I still remember walking home from school and solving coding problems in my head.
Another strong passion I developed since I was a little kid was fishing. All these passions shaped my life as it is today. I am fortunate to do what I love.
How Did You Get Started With WordPress?
My journey with WordPress began around 2009. I just graduated from University and decided to embark on an entrepreneurship journey. Entrepreneurship was something that really got my interest when I was a student.
I followed a lot of people that built businesses (mostly online) and read everything I could on the topic. All this led me, together with my co-founder Cristian, to start a web development company, focused on building websites for clients. Madalin, our third co-founder, joined a few years later, as our CTO. We've been three happy musketeers ever since.
Tell Me More About Cozmoslabs And How Did It Get Going?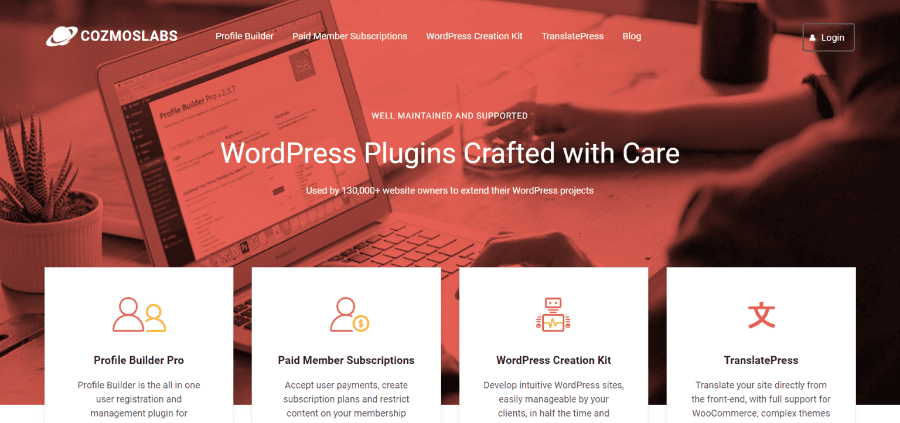 Cozmoslabs was initially a blog (built on WordPress) where we published the things we learned. It's also how we discovered and experimented more with WordPress.
The audience we gradually built here was also what allowed us to successfully launch our first product which, you probably guessed, was a WordPress plugin.
It wasn't long until WordPress became our main focus. Its simplicity, wide range of resources, plus the powerful community behind it, made it incredibly easy for us to build a wide range of websites with it.
Our clients were really happy that once the site was live, they could easily make edits and keep the site content up to date.
With Profile Builder Pro, Paid Member Subscriptions, WCK & TranslatePress, You've Got Your Hands Full, How Do You Cope?
Having developed multiple plugins means your revenue stream does not depend on the success of one product only.
Besides this, the lessons learned from maintaining one product can be helpful when building a new one. You can also use the audience from one product to promote the second one (more on that later).
So, there's a lot of upside when it comes to building and selling multiple products that tackle different pain points.
The only challenge appears when it comes to focus and resources. Without proper planning and a clear structure, it can all easily turn into a juggling scenario.
In our case what worked was splitting the team in a way that each product has dedicated people working on it. This is valid for support, development as well as marketing.
Which One Of Your Products Stands Out As Your Favorite And Why? I Know This Is A Bit Like Picking Your Favorite Child.
Profile Builder is the first product we built and also the one that allowed us to transition from a WordPress development agency to building and supporting our own products.
The revenue from Profile Builder gave us enough cushion to take the leap into working exclusively on our products. This clear focus allowed us to make up the lost revenue from client gigs in less than a year.
The constant requests from Profile Builder clients are also what made us build our membership plugin, Paid Member Subscriptions. People were looking for an easy way to accept payments, restrict content and sell subscriptions. I believe Paid Member Subscriptions does this beautifully.
When it comes to popularity, TranslatePress is our youngest multilingual plugin, but also the one that's growing the fastest.
The free version is approaching 100.000 active installs. Its visual translation interface makes it incredibly easy to use.
By now you've probably realized that I've listed almost all of our products, without picking a favorite. I almost got away with it, didn't I?
What's A Typical Day For You At Work?
When it comes to our company a question I find myself asking constantly is: "Where should I put my time?". This is probably something every business owner ponders on.
Stand Out Achievement, Is There Any One Particular Project That Made You Think, Yeh I Nailed That One!
Being able to grow a business by only working 4 days/week (Fridays OFF). It's not a project per say, but definitely a huge achievement.

I believe it's been more than 7 years since we decided to experiment with this work schedule. It was by far one of the best decisions we made to improve the quality of our lives, and it had a strong positive impact on our business as well.
What's Your Biggest Failure, One That Made You Reevaluate And Make Changes?
Not paying enough attention to marketing.

In the early days, you could easily get away with just building a good product and picking up users using a free version on wp.org. Obviously this is not enough anymore.
It's becoming more and more difficult for new products to enter a saturated market, with a wide range of competing solutions in every niche. To stand a chance you need a well defined marketing plan, resources and consistency. It's a long term game.
Are There Any WordPress Products You Recommend? Themes/Plugins And Why?
There are tons of great WordPress products out there. WP Rocket, Gravity Forms, Easy Digital Downloads, Advanced Custom Fields, Yoast and Rank Math are just a few we've been using for a long time and are happy with.
Does Anyone In Particular Stand Out In The WordPress Product World, Someone Who's Doing Things The Right Way?
There are some great Romanian entrepreneurs building nice things with WordPress that people should check out:
Pavel from WPZOOM
Ionut from ThemeIsle
Dimi from Brizy
Marius from WPRiders
What Do You Think The Future Of WordPress Is? Where Do You See It Going?
How Do You Relax? Any Hobbies Etc?
To switch off completely I go fishing or simply walk in nature. To relax I play with my two awesome kids, read or listen to a podcast.
Tell Me 5 Things People Might Not Know About You.
– I've won the National Lure Fishing Championship twice and attended multiple World Fishing Championships. I'm a 3 time bronze medallist.
– I'm an introvert
– My middle name is Emil. My father named me after him without my mother knowing. Suffice to say my younger brother has no middle name.
– After marrying my wife we both discovered we first met each other many years before we thought we did. We found a picture of us as kids attending a birthday party together.
Thank you Adrian
I want to take a minute to thank Adrian for his time; I've learned a few things about Adrian for sure! He's won 3 bronze medals, an introvert (know that feeling), and met his wife previously!
In all seriousness, as I've mentioned previously, I was thoroughly impressed with TranslatePress. If that plugin is representative of Cozmoslabs work, I'd have no qualms looking into his other plugins.
Thanks again, Adrian, brilliant answers.
If you'd like to find out more about Adrian and his WordPress products, please check out Cozmoslabs and TranslatePress.
You can drop him an email, follow him on Twitter, or connect on Linkedin.
Subscribe To My Newsletter