About Advanced Forms Pro for ACF
Build powerful front-end forms using Advanced Custom Fields
Overview
Advanced Forms is a powerful form builder which takes advantage of the flexibility of Advanced Custom Fields.
It gives you access to the full set of field types provided by ACF such as repeaters, date pickers, and galleries as well as fields provided by third-party plugins. This robust base makes Advanced Forms the perfect form builder whether you are creating a simple contact form or a custom user editing experience.
Advanced Forms Pro takes this even further making it easy to create forms for any post type and forms for editing users. We've also included providing powerful integrations with Zapier, Mailchimp, and Slack.
Features & Benefits
Use any of the fields you can use within Advanced Custom Fields.
Define forms and fields programmatically or use the intuitive UI.
Use the hooks provided to take control of the form submissions or let our plugin automatically save them as entries.
Create multi-step forms using the built-in page field.
Send any number of emails to users and administrators with beautifully formatted data.
Connect your Slack workspace to instantly get a message for each submission.
Let your users create and edit posts and user profiles on the front end.
Sign up visitors to your Mailchimp mailing lists, or use the Zapier integration and connect your form to thousands of services.
Advanced Forms Pro makes it a breeze to build and manage front-end forms with ACF!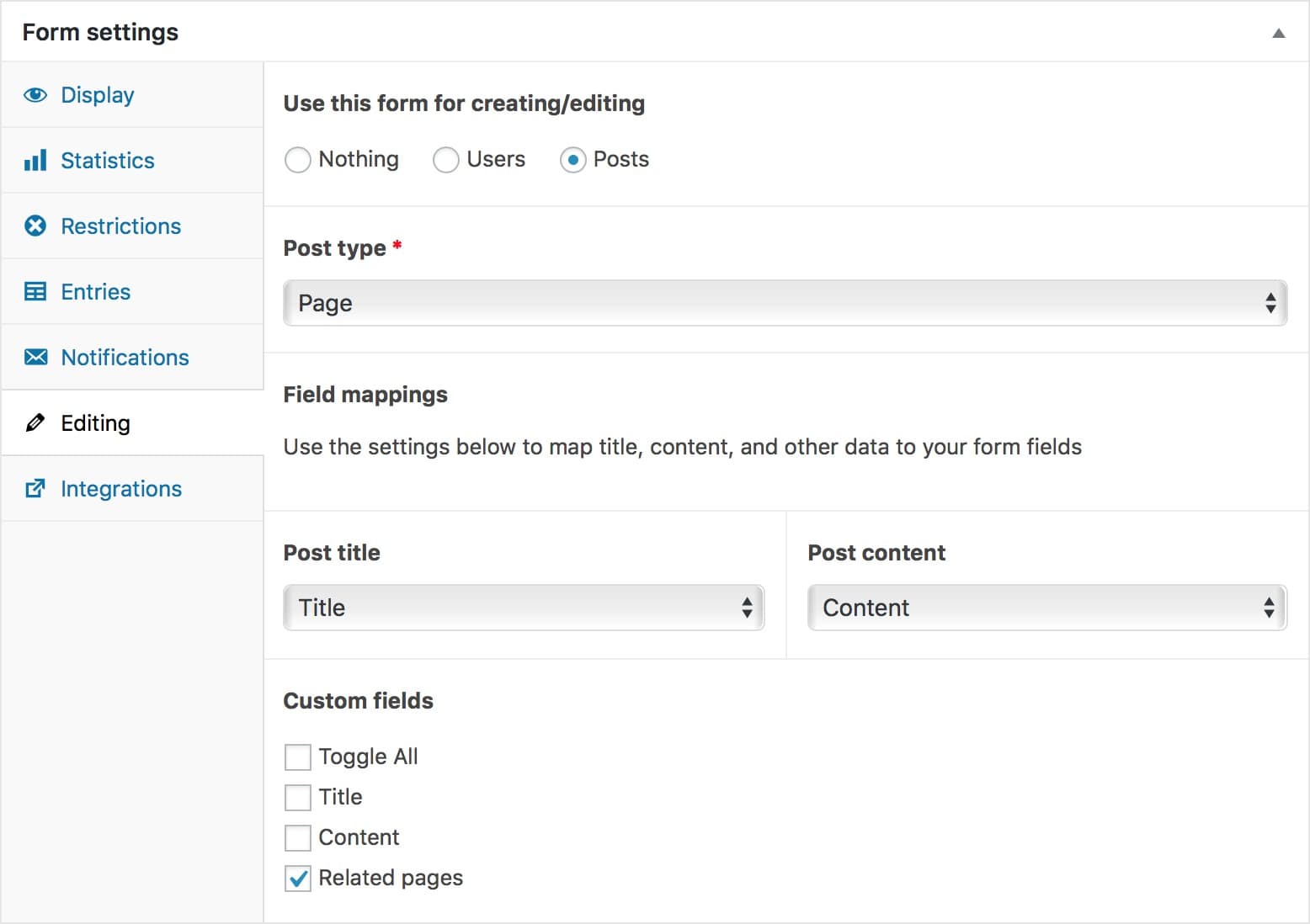 Do you want to let your visitors provide their info and register themselves? Or maybe you want to let your users publish and edit posts with custom fields?
Advanced Forms Pro makes it a breeze to build forms which can create and edit both posts and users.
The intuitive interface lets you connect form fields to the post title and content as well as username, email, password, and more. Because Advanced Forms is built on ACF, any custom field shared between form and post/user can be automatically saved.